De Profundis is a hand-picked vocal ensemble that performs continental Renaissance sacred music at the original low pitch, using the all-adult-male forces appropriate to the period.
Click on the tabs above to find out more about the group and about our programme of concerts.
BBC Cambs interview with Mark Dourish talking to Thordis Fridriksson and Anna Lapwood about De Profundis and Juan Esquivel (23.4.20)
News: Next concert – Music by Morales
De Profundis returns to the Church of Little St Mary's, Cambridge to sing a concert of music by Cristóbal de Morales on Sat 30th April. The concert will mark the launch of the choir's 'Morales Project' – an ambitious 11-year project to perform and record the complete Masses and Magnificats of Morales, the father of the Spanish Renaissance school. The Project conductors will be Robert Hollingworth and Eamonn Dougan.
Tickets available here.
CD News
Our CD of music by Juan Esquivel was released on Hyperion in March 2020.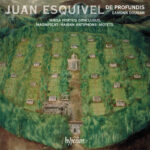 Esquivel ranks among the best composers of the Spanish Golden Age but has until recently languished under the shadows of the better-known Morales, Guerrero and Victoria. This is the first complete album devoted to his music (described by a contemporary as "skillful, and very sonorous to the ear") and is conducted by Eamonn Dougan of the Sixteen and I Fagiolini. Full details here. You can also listen to a couple of clips here.
The album is available on iTunes and Amazon.
To keep up to date with De Profundis news, concerts and events you can either sign up for our mailing list, follow us on Twitter or 'Like' us on our Facebook page .