Founded by Mark Dourish in 2011, De Profundis is a male-voice early music ensemble based in Cambridge, UK, which focusses exclusively on Renaissance church music from continental Europe.
It has long been known that the choirs of continental churches and chapels in the 16th and 17th centuries were entirely male ensembles where the top line was taken by falsettists or boys or both. The next line down was sung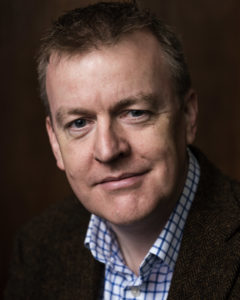 by high tenors. As a consequence the music was sung at a lower pitch than we are used to today. In founding the group Mark took these historical choirs as his model. It was his hope that performing at lower pitch, and using the all-adult-male scoring that would have been expected, would achieve a sound that was closer to what the composer intended than what is offered by most performing groups today.
There are no other semi-professional or professional choirs that exclusively perform this repertoire and perform it in this way, and certainly none that uses amateurs in its ranks. As the distinguished musicologist Hugh Keyte has stated, "De Profundis is a choir that needed to be founded." The members of the choir are hand-picked and include some of the finest amateur and professional singers in the South-East of England.
Another distinguishing feature of how the group works is that they do not have a fixed musical director, but instead bring in expert conductors for specific projects. They limit themselves entirely to the finest early music conductors in the world. Past and future directors include Andrew Parrott, Andrew Carwood, David Skinner, Robert Hollingworth and Eamonn Dougan.
In 2014 the group performed and recorded the complete salvageable works of Bernardino de Ribera (maestro at Ávila cathedral and early teacher of Tomás Luis de Victoria). The disc was released the following year on Hyperion Records. The group later took their Ribera programme to the El Greco Music Festival in Toledo. The group's second CD, sacred music by Sebastián de Vivanco, was released on Hyperion in 2018. It was highly praised in Gramophone magazine and on BBC Radio 3's Record Review programme. It was awarded 5 stars by Diapason, France's leading classical music journal, and was one of the Discs of the Year in El Páis. In 2019 the choir undertook their second Spanish tour, performing in Ávila and Salamanca cathedrals, and at the International Music Festival at Las Navas del Marqués. Their third CD, featuring music by Juan Esquivel, was released in Spring 2020, to warm reviews on radio, online and in print.
De Profundis is a registered charity, no. 1156600
The choir is governed by a Board of Trustees, currently comprising Mark Dourish, Stephen Pledger Jones, Dr Sam Barrett, Jeremy Crouch and Matthew Johnson.
Front of House Manager: Helen Briggs
Photograph of Mark Dourish: Paul Ashley