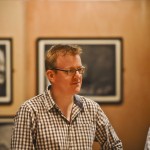 De Profundis was founded by Mark Dourish in 2011.
It is a hand-picked ensemble, made up of some of the finest amateur and semi-professional singers in Cambridge, London and the South East, and varies in size according to the demands of the music at hand. The group focuses exclusively on Renaissance sacred music from the Continent.
It has long been known that the choirs of continental Renaissance churches and chapels were entirely male affairs where the top lines were sung by falsettists or boys or both, and the next line down (named 'Altus') was sung by high tenors. As a consequence the music was sung at a significantly lower pitch than we are used to hearing today with mixed choirs.
We have taken the Renaissance choirs as our model. It is hoped that singing polyphony at lower pitch and using all-adult-male scoring achieves a sound that is closer to what the composer imagined than what is usually offered by modern-day groups.
De Profundis is a registered charity, no. 1156600
The choir is governed by a Board of Trustees, currently comprising Mark Dourish, Stephen Pledger Jones, Dr Sam Barrett, Jeremy Crouch and Keith Bryant QC.
Our Front of House Manager is Helen Briggs.