De Profundis is a hand-picked vocal ensemble that performs continental Renaissance sacred music at the original low pitch, using the all-adult-male forces appropriate to the period.
Click on the tabs above to find out more about the group and about our programme of concerts.
Next concert
Sat 9th May, 7:30pm.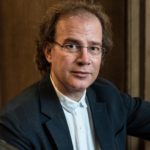 Music from the New World – Francisco López Capillas, Juan Gutiérrez de Padilla & Pedro Bermudez
Conducted by David Skinner
(Part of Cambridge Early Music's Festival of the Voice)
De Profundis on CD
Our CD of music by Sebastián de Vivanco, conducted by Robert Hollingworth, was released by Hyperion last June to critical acclaim ("Sensational… immensely moving" – Record Review, BBC Radio 3). The programme includes his 5-voice Mass for the Feast of the Transfiguration (Missa Assumpsit Jesus) and a selection of motets. There's also a world premiere recording of the Magnificat primi toni. You can have a listen to a couple of the tracks on our Soundbites page, and buy from Amazon.co.uk or iTunes. (Don't forget to click on 'View in iTunes' to get to the page for ordering). You can also have a look at the album's page on the Hyperion website here.
Meanwhile, the group's debut CD was released on Hyperion in July 2016. This is a CD of music by Bernardino de Ribera, maestro de capilla at Ávila cathedral where he was the first musical teacher of the young Tomás Luis de Victoria. Full details on Amazon
To keep up to date with De Profundis news, concerts and events you can either sign up for our mailing list, follow us on Twitter or 'Like' us on our Facebook page .