Founded by Mark Dourish in 2011, De Profundis is a hand-picked vocal ensemble that performs continental Renaissance polyphony at low pitch, using the all-adult-male forces appropriate to the period.
The choir is directed by musicologist and conductor David Allinson and is based in Cambridge, UK.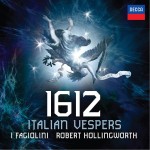 In January 2012 De Profundis took part in the recording sessions for I Fagiolini's CD '1612 Italian Vespers', released on the Decca label in June. This disc, a follow-up to the group's multi-award-winning CD of Striggio's Mass in 40 Parts, features music by Viadana and a remarkable reconstruction of Giovanni Gabrieli's 7-choir Magnificat by Hugh Keyte. The music was recorded in its liturgical context and De Profundis provided the plainchant choir. Rather gratifyingly, following its release, the disc went straight to Number 1 in the UK Specialist Classical Chart and was 'Recording of the Month' in the September 2012 edition of Gramophone magazine. You can get a lot more information here and order the disc here.
To keep up to date with De Profundis news, concerts and events you can either sign up for our mailing list or 'Like' us on our Facebook page .