De Profundis is a hand-picked vocal ensemble that performs continental Renaissance polyphony at low pitch, using the all-adult-male forces appropriate to the period.
Next concert:
'Weeping in Sharps and Flats': Music by Bernardino de Ribera
De Profundis, conducted by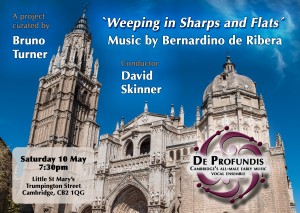 David Skinner (Alamire). Little St Mary's Church, Cambridge. Sat 10th May, 7:30pm.
Bernardino de Ribera was director of music at, in turn, Avila, Toledo and Murcia cathedrals. At Avila he was the teacher of the young Tomás Luis de Victoria. Little of Ribera's music has survived to the present day but what has come down to us reveals a characterful composer writing in the style of Morales with frequent forays into a typically expressive Spanish idiom. The concert features Magnificats and motets that have been recently unearthed and newly edited by Bruno Turner, perhaps the most famous and significant Spanish renaissance musicologist of our times. Bruno Turner himself will introduce Ribera and his music during the concert.
Further concert details here and tickets available here.
Click on the links above to find out more about the group and about our programme of concerts.
To keep up to date with De Profundis news, concerts and events you can either sign up for our mailing list or 'Like' us on our Facebook page .