De Profundis is a hand-picked vocal ensemble that performs continental Renaissance polyphony at the original low pitch, using the all-adult-male forces appropriate to the period.
Click on the links above to find out more about the group and about our programme of concerts.
Our next concert!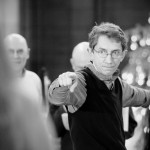 'Music from Salamanca': Missa Assumpsit Jesus and motets
Saturday 29th April, 7:30pm, Church of Little St Mary's, Cambridge. Conducted by Robert Hollingworth.
Vivanco's five-voice mass for the Feast of the Transfiguration is accompanied by a selection of his wonderful motets – both the well-known and the less familiar.
Tickets (£16/£12) from here.
New CD!
The group's debut CD was released on Hyperion in July 2016. This is a CD of music by Bernardino de Ribera, maestro de capilla at Ávila cathedral where he was the first musical teacher of the young Tomás Luis de Victoria. Full details on Amazon
To keep up to date with De Profundis news, concerts and events you can either sign up for our mailing list, follow us on Twitter or 'Like' us on our Facebook page .