De Profundis is a hand-picked vocal ensemble that performs continental Renaissance polyphony at the original low pitch, using the all-adult-male forces appropriate to the period.
Click on the tabs above to find out more about the group and about our programme of concerts.
Next concert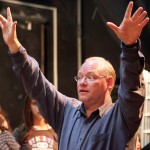 14th April 2018
Jeremy Summerly
Music for Pentecost by Palestrina and Victoria, featuring Palestrina's Mass & Motet 'Dum complerentur'
Full details here.
Our first CD
The group's debut CD was released on Hyperion in July 2016. This is a CD of music by Bernardino de Ribera, maestro de capilla at Ávila cathedral where he was the first musical teacher of the young Tomás Luis de Victoria. Full details on Amazon
To keep up to date with De Profundis news, concerts and events you can either sign up for our mailing list, follow us on Twitter or 'Like' us on our Facebook page .