De Profundis is a hand-picked vocal ensemble that performs continental Renaissance polyphony at the original low pitch, using the all-adult-male forces appropriate to the period.
Next concert:
Missa Cantantibus organis – Palestrina and the Roman school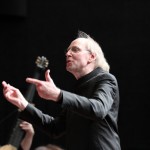 Polychoral music from late-Renaissance Rome conducted by Andrew Parrott.
7:30pm Sat 25th April, Trinity College chapel.
Further details here, tickets here.
Click on the links above to find out more about the group and about our programme of concerts.
To keep up to date with De Profundis news, concerts and events you can either sign up for our mailing list, follow us on Twitter or 'Like' us on our Facebook page .