A choirboy at the cathedral at Ciudad Rodrigo, the young Juan Esquivel (c1560-1630) was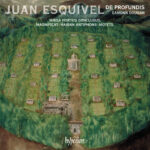 taught by Juan Navarro who had also taught the young Victoria and Vivanco. Esquivel went on to become one of the greatest Spanish composers of the Golden Age though until recently he languished in the shadow of the more famous Morales, Victoria and Guerrero. A contemporary described his music as "skillful and very sonorous to the ear". Bruno Turner declares that his music "deserves to be heard because it is so good."
This is the first album to be devoted solely to Esquivel's music and was released on Hyperion Records in March. You can read more about Esquivel and the recording here, and order the CD on iTunes or Amazon.
"There's an amazing warmth to Esquivel's writing which De Profundis exhibit absolutely perfectly. The music is perfectly simple, and beautiful. There's a very, very classy countertenor sound – perfectly blended and never oversung. The choir has a really well-integrated sound and I really enjoyed this recording." – Record Review, BBC Radio 3
"De Profundis are an ensemble I admire. They certainly fulfil their brief here: low, bold and more demonstrative than many of the English ensembles who also explore Iberian polyphony, and their sound is rich… and anchored by the attractive grain of the bajón. The passionate singing creates an extremely enjoyable and atmospheric recording." – Gramophone
" This could well be a disc that will achieve awards." – MusicWeb International
"This is a deeply impressive recording of marvellous and rarely-heard music performed by a world-class ensemble." – cdhotlist.com
"De Profundis prove once more their perfect mastery of this repertoire: vocal precision, layering of textures, and, above all, a beautifully communicative passion." – clicmusique.com
+          +          +          +          +          +          +
After studying with Bernardino de Ribera – see below – Sebastián de Vivanco (c1551-1622) went on to become maestro at Salamanca cathedral
and a university professor there. Conducted by Robert Hollingworth, we perform his Missa Assumpsit Jesus in the context of Mass for the Feast of the Transfiguration. There are also some gorgeous Marian motets (Surge propera, Assumpta est Maria, Veni dilecte mi) and we finish with a world premiere recording of his Magnificat primi toni. (CDA68257)
Have a listen here and click on the link below to buy.
"Stunning!" – Sir Bryn Terfel
"A lovely conspectus… Hollingworth wrings some wonderful juiciness out of this polyphony… sensational… immensely moving… I really enjoyed the singing" – Record Review, BBC Radio 3
"The sound is instantly reminiscent of past recordings by Ensemble Plus Ultra and the Gabrieli Consort. De Profundis have… presence and purpose here. The programme gives them scope to demonstrate their versatility. Hollingworth seems to bring out the best of them." – Gramophone
"The great clarity of diction, the delicacy of the beautifully finessed lines, as well as the unwavering commitment across the whole programme, ensure your commitment. 5✶" – Diapason (France)
+          +          +          +          +          +          +
Bernardino de Ribera (c1520-1580+) was maestro de capilla at Ávila cathedral where he was the first teacher of Tomás Luis de Victoria and
Sebastián de Vivanco. He later became director of music at Toledo cathedral. The major manuscript source of his music was compiled in 1570 in Toledo, but was heavily vandalised in the 18th century. Bruno Turner, doyen of Spanish renaissance musicologists, has worked for many years to piece together what's left of Ribera's music and this 2016 recording (featuring nearly all of his surviving music) is almost entirely made up of world premiere recordings.
Listen to sample tracks here. The CD is available to order from Amazon using the link below. (CDA68141)
"These solid, well-judged performances elevate Ribera from a mere footnote in music history to something more substantial. Victoria, perhaps, might be proud of his early master" – Gramophone
"The sonorous voices of De Profundis perfectly suit the beguilingly opulent textures and expressive lines" – The Sunday Times
"De Profundis builds the sonic architecture perfectly, brings out the fugal entries, and gives clear direction to the long, smooth phrases" – Diapason (France)
+          +          +          +          +          +          +
In January 2012 De Profundis took part in the recording sessions for I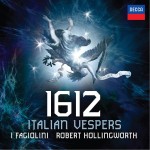 Fagiolini's CD '1612 Italian Vespers', released on the Decca label the following June. This disc, a follow-up to the group's multi-award-winning CD of Striggio's Mass in 40 Parts, featured music by Viadana and a remarkable reconstruction of Giovanni Gabrieli's 7-choir Magnificat by Hugh Keyte. The music was recorded in its liturgical context and De Profundis provided the plainchant choir. Rather gratifyingly, following its release, the disc went straight to Number 1 in the UK Specialist Classical Chart, was 'Recording of the Month' in the September 2012 edition of Gramophone magazine and was nominated for the 2013 Gramophone Early Music Award. You can get a lot more information here and order the disc here.