From our first concert in 2011, the hand-picked singers of De Profundis have striven to present the greatest sacred works of the Renaissance to a professional standard, and have worked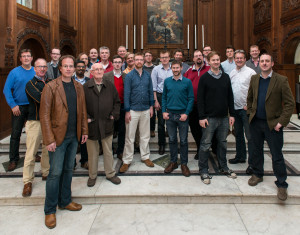 with some of the finest early music directors in the world, including Andrew Carwood, Andrew Parrott and Robert Hollingworth.
Musicologists recognise that Continental sacred polyphony was usually performed by all-adult-male choirs in the Renaissance period. It's an unusual way to perform the music today, however, and so our concerts have an innovative and educational aspect to them. As the distinguished musicologist Hugh Keyte commented, De Profundis is a choir that "needed to be founded".
There's no better way of supporting us and the work we do than by joining our Friends Scheme. There are three levels of support, with increasing benefits, outlined below.
Friend – Priority booking for concerts, a credit in the programme and website and a warm glow inside! (£35 minimum annual donation)
Benefactor – All of the benefits of being a Friend, plus invitations to sit in during the rehearsal process for concerts and meet the conductors. (£100 minimum annual donation)
Patron – All of the benefits of being a Benefactor, plus a double-invitation to an exclusive annual Patrons' Event at Sidney Sussex College (a musical performance and a drinks reception afterwards with the performers and our Chief Guest Conductor David Skinner), opportunities for named support for particular concerts or activities, and concert programmes and CDs signed by conductors. (£200 minimum annual donation)
Secure financial backing from our Friends, Benefactors and Patrons allows us to work on imaginative projects and commission new scholarly editions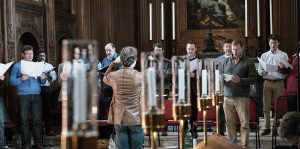 of music that is either not currently available or is available only at an inappropriately high pitch. It also helps us to secure the best singers and strengthens our ability to attract the cream of international conducting talent to Cambridge. Our creative ambition is to share our passion for not only the glorious highlights but also the undiscovered gems of Renaissance sacred music with as wide an audience as possible through authoritative performances and recordings.
De Profundis is a registered charity, meaning all donations to the choir from British tax-payers are eligible for Gift Aid. If you're interested in joining our Friends Scheme then simply download the Application Form, print off a copy, fill in your details and post it back to us.
We look forward to welcoming you!
(Photos: Andrew Wilkinson Photography)
We are enormously grateful for the generosity and support of those who have joined our Friends Scheme:
Friends: Donna Sharp, Rosemary Mathew, Lynda Collins, Andrew Cantrill, Simon Adams
Benefactors: Iain Hunter & Elizabeth Vince, Peter Ellis, Ann Wintle, Galina Smith, Kieran Cooper and donors who wish to remain anonymous
Patrons: Centro de Estudios Europa Hispánica (CEEH), Matthew & Libbi Johnson